I promised myself this year that I was going to try and do something, anything, to mark the passing of each holiday in the Wheel of the Year. Holidays like Samhain and Yule and Imbolc, the darker, more "wintery" holidays are easy to celebrate alone or with my partner. (And Beltane... there's a holiday made for couples to celebrate alone if there ever was one.) But in the past when I've tried to do this "celebrate all eight" thing, I've always somehow skipped over the Autumn harvest time holidays. One reason, I think, is that it feels odd holding what I know, somewhere, deep in my bones
should
be a community celebration, all by myself or with one other person.
So, this year, I decided we were having a Mabon party. After some wavering by both my partner and me about the wisdom of having a big cooking extravaganza on a weekend well into our teaching semesters, we decided that celebrating the equinox with friends was worth the trouble and the lost time prepping for class. I'm glad we did.
Three of our very dear friends were able to come over, and we had a lovely time. I bought fall place mats in brown and orange with oak leaves and acorns stitched onto them, and we got two baby decorative pumpkins at Trader Joe's. We put one on either side of the Mabon candle we bought at Ren Faire a couple of years ago, and added a friendly looking pine cone hedgehog to complete the effect.
Oh, and since we had one place mat left over, I used it for my altar.
For dinner, my partner, R., made a fantastic whole chicken in our upright chicken roaster, surrounded with onions and lemon wedges, and she roasted fingerling potatoes, sweet potatoes, and carrots in olive oil. We also had cornbread stuffing and cornbread on the table. For dessert, we had baked apples covered in dough and filled with melted butter, sugar, and cinnamon. It was all delicious, and I felt like I do on the day after Thanksgiving, with no desire to eat until at least next month.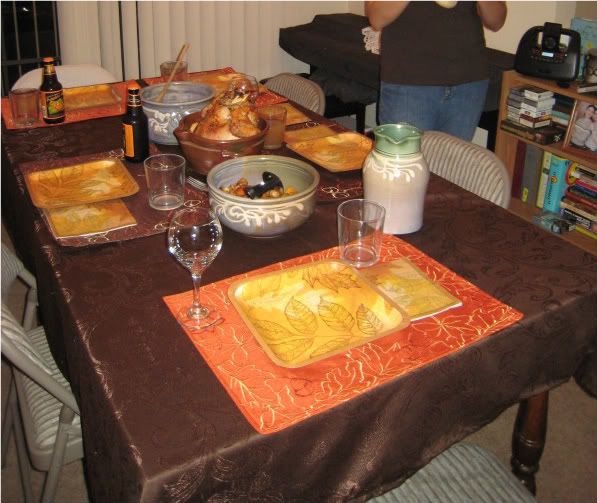 After dinner, we sat around in a food coma for a while, then we took turns sharing things that were important or interesting to us about fall. We talked about fall deities, listened to songs, pagan or not, that spoke to the season, and I read a poem I'd written. A while later, some of us broke out tarot and oracle decks, and I got to do a Mabon-themed reading from one of my favorite little tarot books for one of my friends. It was a really nice, calm way to spend an evening.
And now, I leave you with a picture of two fruits of a vine and the poem I wrote to share at the party.
In the Balance
It is autumn, and the leaves that unfurled
bright and new just this past spring
have mellowed to a dark and secret green,
though some have blushed to scarlet
and other blazed to orange or gold.
The scales that balance light and dark
stand level for a moment,
before the earth turns, begins
that long, slow journey into night.
The fruits that waited,
small and perfect behind the bud,
have grown to fullness,
round and ripe for the harvest.